Get to know your MINI team
Thom Joel Jackeline & Sarah
MAKE MINI MO BETTER!
Thom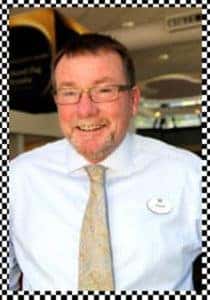 Thom has been with Checkered Flag about 20 years and has been at Honda, VW, Hyundai, Budget Blvd, BMW, and now MINI!
When not at work, you can find him at DD or Starbucks where him and his dog Koa enjoy coffee and pup cups.
Born in Maryland, so of course he roots for the Birds of Baltimore, both the Ravens, and the Orioles, slowly becoming a Nats fan as well.
Off time may include a bourbon and the occasional cigar from his deck overlooking the Lynnhaven River.
Most all the family resides in California now, so one day a relocate to San Diego or San Fran will happen!
Openly addicted to Podcasts, driving to and from Checkered Flag lets him catch up on daily events, history, or a good murder mystery.
Fun Facts
* Thom can wiggle his ears, yay
* Still loves Fuji apples the best
* Daughter, Step Son, and Step Daughter graduated from the triangle of UVA, JMU, & VCU
*Favorite zip line was down Blackcomb Mountain in British Columbia
*Somehow likes Nickelback
*Strongly believes InstaPot and AirFryer saved him from a life of eating out.
Joel Torres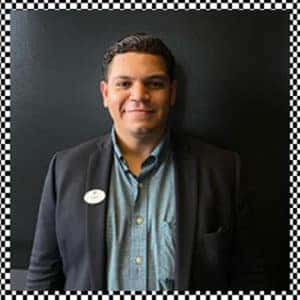 Joel has been with Checkered Flag about 2 years, and is a product specialist of both BMW and MINI!
When at home, you can find him spending time with his wife watching movies, sleeping, and sleeping some more.
Born in Virginia Beach, so of course he is familiar with the beach, as well as the amazing diversity in the city.
Off time may include all-night gaming sessions & cracking open a cold one with the bros.
Most all the family resides in Florida now, so one day a relocate to Orlando or Miami will be in the works.
Openly addicted to cars, fun, and politics/world history.
Fun Facts
*Joel is 6'4" , 24 years old and has the back problems of a 240 year old
*Favorite roller coaster is The Hollywood Rip Ride Rockit at Universal Studios
Jackeline Ruiz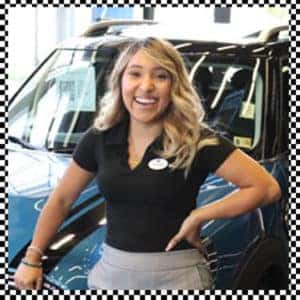 Is one of the newest members at Checkered Flag MINI! She enjoys matching customers to their perfect MINI.
In her free time, she likes snuggling up with her French Bulldog Loui, and binge-watching Netflix TV shows or Documentaries.
Born and raised in San Antonio Texas for most of her life means she's a Spurs and Cowboys fan (and yes, she does own a pair of cowgirl boots).
She found her way to the East Coast due to serving in the Military for 4 years. When she has the time, she enjoys flying down to Texas to
spend time with her family.
Fun Facts
*Loves eating food, rather than making it.
*Enjoys traveling and taking her Polaroid camera with her everywhere
*Favorite color is Pink.
Sarah Kalifa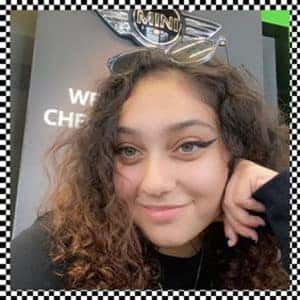 Sarah is a new addition to the Checkered Flag Mini team!
When not at the dealership, she usually spends her time shopping for car parts or taking road trips!
She also enjoys going for late night drives with loud music!
Her dream is to build cars and drift professionally!
Fun facts
*Sarah is fluent in three languages: Arabic, Kurdish, and of course English!
*Her favorite Mini is the 2 Door Hardtop JCW Cooper S!